Lawnswood roundabout improvement scheme
Introduction
Lawnswood Roundabout is one of the busiest in north Leeds, with over 60,000 vehicles moving through the junction each day. The A660 corridor also has high volumes of cycling and bus users.
The junction lacks adequate crossing facilities and is a major barrier for walking and cycling, especially given the closeness to Lawnswood School. The junction also suffers from a poor safety record, ranked third on Leeds's recent Sites for Concern report. Between 2015 and 2019 there were 29 personal injury collisions, with 18 involving cyclists and seven with serious injuries. This is in addition to damage-only collisions, which are not routinely recorded.
The congested conditions experienced on much of the A660 corridor also means there needs to be attractive alternatives to private car use, as modal shift towards public transport, walking and cycling will help to make more efficient use of road space. Making bus journeys more reliable along this route will offer people better choices for their journeys.
Two rounds of public consultation were carried out in 2018 using a different design. Some respondents recognised improvements for walking, cycling and bus users. But negative responses raised concerns regarding potential impacts on congestion and air quality and environmental impacts, such as trees and green spaces.
Scheme development: You said, we listened
We have listened and responded to the key issues raised in the previous consultation. The overall guiding principle of the design work was to reduce the impacts on trees and green spaces, whilst also ensuring pedestrians and cyclists can cross the junction safely.
Here's a summary of the anticipated impacts of the current proposals against the previous signalised crossroads scheme. The current proposal will impact significantly less on trees and green space than before.
2018 – You Said
2021 – We Listened
The proposal impacted on many trees.
(With 17 to be removed and 20 trees at risk).
Two/three trees to be removed and two trees relocated. Any trees lost will be replaced at a minimum ratio of three to one.
The impact on grass verges is too great (impacts on the Outer Ring Road, and no impact on Otley Old Road).

The new proposal has smaller impacts on grass verges on Otley Road and the Outer Ring Road. The new proposal has no impact on verges on Otley Old Road.

The green space at the centre of the roundabout is important to the character of the area.
Green space is to be retained and reshaped.
Concerns that the proposal could worsen air quality.
The proposal is not expected to significantly impact air quality near the junction. Further investigation of air quality impacts will be undertaken as the design progresses.
Concerns that the proposal could worsen congestion.
Traffic modelling undertaken by the council demonstrates that the proposed layout can accommodate the anticipated volumes of traffic without generating large queues. The proposed design would be expected to lessen delays experienced at the junction during the peak periods, in comparison with the existing layout.
Trees and green space
We have revised the proposals to lessen the impact on trees and green space.
Trees being relocated
In the proposed design, two trees cannot be retained in their current location. We are proposing to relocate these trees (image two) using specialist machinery. This approach has proved successful on other council projects, although occasionally trees do not survive the relocation process. We would look to relocate these two trees near the roundabout.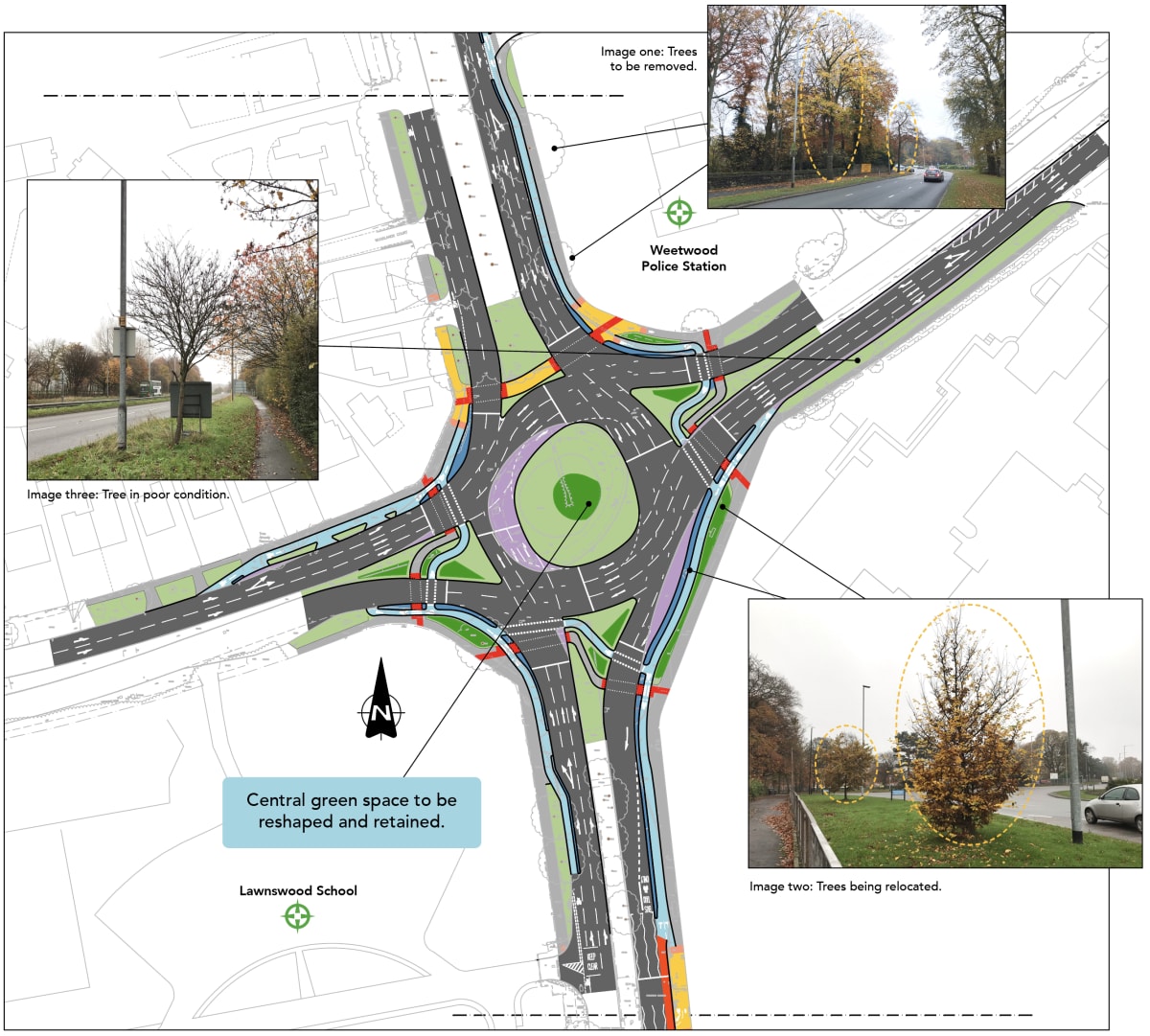 Trees to be removed
There are two trees which need to be removed on the eastern side of the A660 northern arm (two trees shown in image one). This is in order to accommodate improved pedestrian and cycle facilities. There is a third tree, on the southern side of the A6120 eastern arm, which is currently in very poor condition (Image three). This tree may die before construction begins, or may otherwise need to be removed during construction.
(NB. Any amendments to the design, for example in response to stakeholder comments, could result in additional tree impacts).
Fit with Connecting Leeds transport strategy, climate emergency declaration and walk it, ride it campaign
Since the public consultation undertaken on the signalised crossroads scheme, an extensive consultation has been undertaken on the Connecting Leeds transport strategy.
The majority of respondents supported the strategy, which includes objectives to reduce car use, and encourage use of public transport and active modes (such as walking and cycling).
The current proposal is well-aligned with the new strategy due to its benefits for public transport, walking and cycling.
Unlike the proposal presented in 2018, significantly increasing capacity has not been an objective of the current proposal for Lawnswood roundabout.
The current proposal is also well-aligned with the Leeds City Council's climate emergency declaration and walk It, ride It campaign, as it will help to encourage modal shift away from private car use towards walking, cycling and public transport.
Who we are
The Lawnswood roundabout improvements are being delivered by Leeds City Council in partnership with the West Yorkshire Combined Authority and development partners. The Combined Authority works with local councils and businesses to ensure that everyone in our region benefits from a strong economy and a modern, accessible transport network.
Connecting Leeds
Connecting Leeds is Leeds City Council's ambition to improve travel for those who live, work in, and visit the city. We have an ambitious vision for Leeds: to create a world-class city that allows for seamless travel not just within Leeds, but regionally, nationally, and internationally.